English, Cantonese and Mandarin are widely used in Hong Kong companies, we know how important it is for a company to have employees' proficiency in these three languages. Therefore, in more than 15 years of corporate training experience, we have been studying in-depth the most suitable content, form and structure of the corporate language training courses in these three languages , and combined with the actual needs of different companies to develop tailor-made, unique corporate teaching materials and finally achieved very satisfactory results.
Individually Tailored Courses
According to your Company's specific needs, we will develop a language course that meets your unique needs to upgrade your staff's existing linguistic skills in Mandarin, Cantonese or English.
Targeted Training Content
Each course develops the following language skills:
Pronunciation Skills, Oral & Reading Comprehension skills, Writing Skills, Grammar highlights, critical thinking and confidence build-up.
Trained Accredited Native Teachers
Our professionally trained and accredited instructors are all native speakers and qualified teachers with considerable experience. Especially they are good at organizing class teaching for Corporate Training, Creating an active, motivated and encouraged classroom atmosphere.
Employee Supervision & Management
Your employee's evaluations, attendance, performance appraisals and end of course exams are included as standard in our management support policy to Corporate Training, and you will be regularly informed of the progress of each one of your employees.
At Hong Kong Pro Language School, we strive to create an inspiring environment to optimize your potentials through various teaching methods, including role plays, games, group discussion and presentation. We aim to ignite your enthusiasm in learning, and to get you motivated in improving language skills.
Under Hong Kong's booming tri-lingual environment, we are committed to providing practical and best suitable language training courses relevant to your industry and your company needs to help you achieve corporate training goals. Our language courses cover the phonetic learning, life topics, business topics, correcting pronunciation, culture background learning, hot topics and other important language areas of these three languages, our language trainers will help your employees focus on accurate expression and presentation, practical application, effective communication and intercultural understanding.
In addition to helping employees improve their language skills at work and in daily life, we will also let them enjoy the learning process of these three languages in a relaxed, pleasant and interactive learning environment.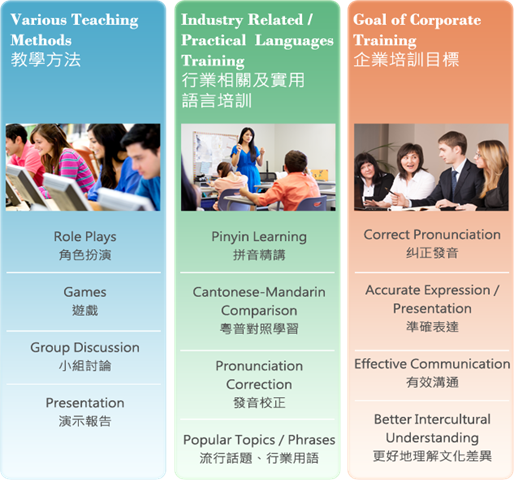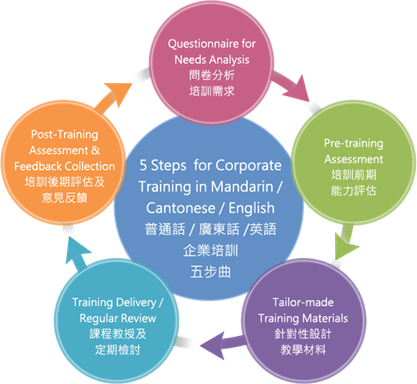 At Hong Kong Pro Language School, we believe an effective training programme is built upon a systematic process. Our exclusive training outlines are divided into FIVE essential steps:
Questionnaire for needs analysis: The first step in effective corporate training is to identify and assess needs. Employment training purposes may already be established in corporate strategies or development plans. We will conduct a pre-training questionnaire to survey the underlying rationales behind the programmes to best suit a company's business.
Pre-training assessment: After we formulate a training outline, the employees are advised to complete an assessment prior to the programme. This will identify and expose the gaps in the current initiatives and employee skill set to be improved through the process.
Tailor-made training materials: This step is to create a comprehensive and proactive plan that includes learning theories, instructional design, content, materials and any other training essentials, which are tailored to fit the corporate business type.
Training delivery with regular review: The implementation phase is when the training programme is officially launched. This stage includes scheduling and organization of related resources. During training, the process is monitored by regular reviews and adjustment from our trainer to ensure the effectiveness of the programme.
Post-training assessment and feedback collection: As the final stage, the entire process is evaluated to determine if it was successful and met the training goals. Feedback collected from all stakeholders are also key to assess knowledge and skill acquisition. The training programme can be revised if any weakness is identified.
Our language Corporate Training clients include various companies and organizations in different industries, such as banking, financing, communication, education, law, tourism, real estate, medical science etc. Please see below our client list (partial):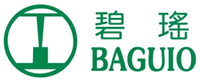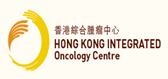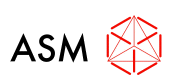 For details, please call (852) 37021366 or email : info@hkpls.com.hk