Corporate Training Courses
Tailor-made Corporate language training programs on Mandarin, Cantonese and English will enhance your staff's language skills.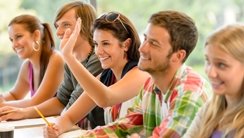 Professional Language Corporate Training in HK
HKPLS' Corporate Training Team specializes in providing corporate training courses in Mandarin, Cantonese and English for staff from multinational corporations, local companies and other kinds of organizations in Hong Kong.

With 15 years of experience of corporate training HK, we are keenly aware that every company has its own specific training needs for certain languages, therefore, as soon as our corporate training course team receives the first phone call or email from your company, we begin to analyse and discuss the real needs of your company's corporate training, and will also suggest relevant training options; Then we will send our trainers to your company to test the language proficiency of your employees, and then send you a report containing the results within two working days. If you decide to purchase our language courses, the testing will be free of charge. For the next step, we will produce a proposal that includes an outline of the course, suggested course timings and cost. The last step is to sign a contract with your company for a corporate training course.
In addition, our corporate training courses in all three languages have their own characteristics in terms of teaching form, teaching content and comprehensive teaching modes.
For Mandarin Corporate Training, we attach great importance to the intuitiveness, vividness and interactivity of teaching. Our Mandarin teachers use various forms of teaching while preparing rich teaching contents such as: Topic teaching with PPT presentation, Role play, Interactive games, Telling a story and Group discussion and sharing etc. In addition, we have prepared an online learning platform for our corporate customers, where students can study independently or interact with teachers online, which creates a soft environment for students to learn outside the classroom and extends the classroom teaching form effectively.
The content of Cantonese Corporate Training is mainly oral training. When tailor-making the enterprise teaching materials, our professional trainers will make the following as the main content of their teaching: real-life situations, practical vocabulary, vivid paragraphs, and speaking exercises, as well as intensive phonetic exercises; In the teaching of themes, there are not only the daily topics that are often discussed by most people, for example, how to make a phone call, how to ask for directions, how to buy things, how to order food in a restaurant and so on, there are also work contexts that employees are personally exposed to, such as introducing the company's business, receiving and serving customers etc. While teaching spoken Cantonese, we also integrate a large amount of Cantonese culture background to our corporate students, so that they can not only acquire language knowledge, but also be able to exchange information and express ideas in this language, complete a variety of communicative tasks.
For English corporate training, we advocate comprehensive language skills training, which covers the core skills: grammar, vocabulary, pronunciation, listening, speaking, reading and writing. Thus, after understanding the specific business of each enterprise, we work out a series of working topics and working situations based on the business nature of your company, and integrate the training of the above mentioned core skills into our teaching process, so that students can immerse themselves in the learning environment for working English and master the expression method of English business topics. For the training of English listening, speaking, reading and writing four skills, we have the following main forms of expression:
Listening skills: Choose the right response; Listen to the short conversation and choose the answer; Fill in the blanks according to what you hear; Listen to the two paragraphs and choose the answer etc.
Speaking skills: Supplement the conversation based on the situation; Situational conversations including role playing; Group discussion; Look at the picture and speak; Problem solving dialogue etc.
Reading skills: Fill in the blanks with the words; Match the appropriate words; Choose the right answer; Conjunctions form sentences; Read and repeat etc.
Writing skills: Complete the dialogue; Complete the sentences with the words given;
Email writing skills: Business letter writing (I) including notices, invitations, thank-you notes, introduction letters etc; Business letter writing (II) including quotations, orders, complaints and recommendations letters.
With everything starting from the interests and needs of corporate customers, we carefully and comprehensively serve our corporate customers, develop and design a unique language training programme to help the employees to enhance their language abilities to meet the company's target.